President Joe Biden on Tuesday again called on Congress to pass an assault weapons ban, just a few months after he signed into law bipartisan gun control legislation that fell short of banning the deadly weapons. 
On Saturday night, a gunman opened fire at a dance hall in Monterey Park, Calif., killing 11 and wounding several others. And on Monday, seven people were killed in two related shootings in Half Moon Bay in Northern California. 
The Los Angeles County sheriff identified the weapon used in the Monterey Park mass shooting as a semiautomatic MAC-10 assault weapon, but a description of the gun used by the Half Moon Bay shooter has been described only generally as a semiautomatic handgun.
The White House has long been intent on showing it is serious about strengthening gun control laws. Vice President Kamala Harris is traveling to Monterey Park on Wednesday, and Mr. Biden in December attended a vigil for gun violence victims. 
Democratic Sens. Dianne Feinstein, Richard Blumenthal and Chris Murphy on Monday introduced a pair of gun control bills: the first would ban assault weapon sales, and the other would raise the age to buy an assault weapon to 21. Democratic Rep. David Cicilline of Rhode Island is expected to introduce a companion bill to the assault weapons ban in the House, according to Feinstein's office. 
Addressing Democratic congressional leaders on Tuesday, Mr. Biden said, "I am asking you all to send that to my desk as quickly as you can. It's really needed badly."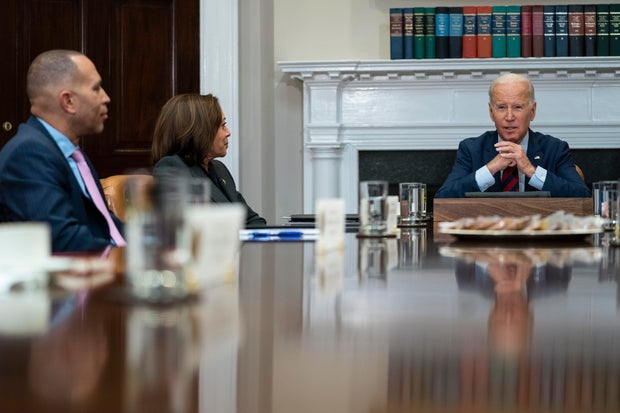 Following mass shootings last year in Buffalo, New York, and Uvalde, Texas, 10 Republican senators joined every Senate Democrat and the Democratic-led House in voting to pass gun control legislation that enhanced background checks for gun buyers under 21 years of age and closed the so-called "boyfriend loophole" to prevent convicted domestic abusers from purchasing a firearm for five years. Mr. Biden quickly signed the bill into law.  
But Mr. Biden would like to see legislation that goes further, a new assault weapons ban, like the 1994 law that he helped pass as a senator. It prohibited over a dozen assault weapons and large-capacity magazines, and it expired in 2004.
In July 2022, the Democratic-led House passed a similar ban. Two Republicans joined with the majority of Democrats to vote for the bill, while five Democrats voted against it. But the legislation was never considered in the Senate, where 60 votes are needed to bring a bill to the floor for a vote. At the time, Democrats had only 50 seats in the Senate.
Feinstein's current bill faces the same obstacle, since Democrats currently have only 51 seats in the Senate.
Republican Sen. John Cornyn of Texas, one of the 10 Republicans who worked with Democrats to pass the bipartisan gun legislation last summer, said Tuesday that "there are not enough votes in the Senate for an assault weapons ban." And there aren't enough votes in the House either, now that Republicans are in the majority. – CBS
CODEC Stories: